Mud Bath Service
Mud therapy benefits
Mud is an important element of nature. It contains important minerals which have positive effects on human health. Mud can absorb toxins from human body therefore is very useful in preventing many diseases. It is also known for its healing properties. It also helps in cooling and relaxing body as it can hold moisture for a long time.
Benefits of Mud therapy are:
It relaxes muscles and improves blood circulationIt maintains metabolism rendering positive impact on digestion

It is useful in conditions of inflammation/ swelling and relieves pain

It is a good hair conditioner and is good for skin

It is useful in condition of stiff joints

Why use mud therapy?
Out of the five constituent elements of this universe mud (earth) has a pivotal role to play in our well being. The dark color of mud helps in absorbing different colors and conveying them to the the body, giving it therapeutic properties. Also, its shape and consistency may be modified with ease, just by changing the water content, which makes it easy to use. A mud pack is advantageous over a cold compress (cold water therapy) as it retains the coolness over a longer period of time. Therefore, it is recommended whenever a prolonged cold application is required. Lastly, it is easily available and a cost effective treatment option.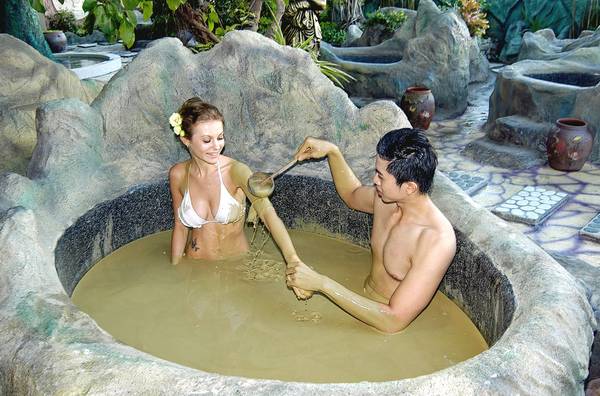 Mudbath:
First the mud is prepared by soaking it in water. The mud is then applied to the full body either in sitting or lying down position. Mud is kept for 45 to 60 minutes and ideally be exposed to sun light, at least intermittently. Remember that the head should always be covered when exposing the body to sunlight. Afterwards, the person should be thoroughly washed with cold to luke warm water. Dry the person quickly and transfer to a warm bed. A mud bath helps in increasing the blood circulation and energizing the skin tissues. It thus helps in cleansing and improving the skin condition generally. Regular mud baths may be considered as natural beauty treatment procedure as it also helps in improving skin complexion and reducing spots and patches, possibly the result of some skin disorder like chickenpox or small pox. Mud baths are useful in many skin diseases such as Psoriasis, Urticaria, leucoderma, Leprosy and other skin allergic conditions.
Despite therapeutic properties of mud which are very useful in maintaining good health and glowing skin, the over-use of mask applications may lead to excessive drying of the skin. Therefore it is essential to keep the pack moistened to avoid excessive dryness and stretching. Also, the mud must be carefully chosen for obtaining desired results, and its quality must be ensured to avoid any complications.
---
HƯƠNG SEN HEALTHCARE CENTER - HOTLINE: 035 318 3888
Branches in Hanoi
Huong Sen 49 Thai Thinh - Tel: 0243 8533 798
Huong Sen 78 Yen Phu - Tel: 0243 9271 330
Huong Sen 68 An Duong - Tel: 0243 7171 999
Huong Sen 5 Le Van Thiem - Tel: 0243 8533 999
Working hours:
9h30 - 22h30 every day of the week