11 Benefits of Mud Baths | Huong Sen Healthcare Center

Why should you do a mud bath? (in no particular order, all reasons are great!)
1) Puts a little adventure in your life
2) Relieves muscle and joint aches and pains
The deep heat from the Mud & geothermal waters have incredible anti-inflammatory properties.
3) Relaxation like you have never felt
The warm, soft mixture of the mud "feels awesome" and allows your body to let go.
4) Takes the stress off your body
You are completely suspended, no pressure on your body while floating in the Mud Bath.
5) Detoxifies your body.
The earth heals you in these treatments by drawing out the toxins and impurities from your body.
6) Softens Skin
The volcanic ash exfoliates your skin.
7) Improves Circulation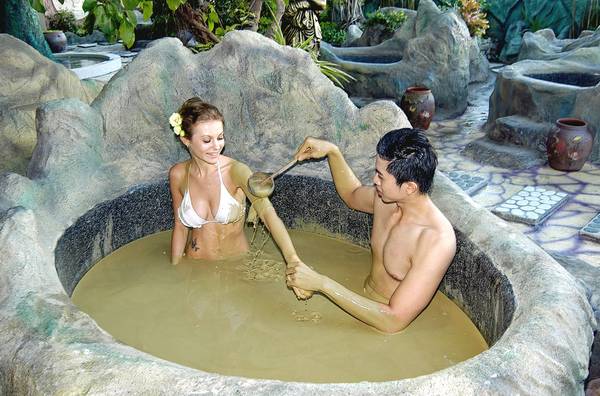 The heat from the geothermal water and the Jacuzzi jets invigorate your circulation.
8) Balances pH Levels
Complex minerals from Nha Trang's mub are infused into your body, helping to balance out your body's natural pH.
9) Silences the outside world
Huong Sen Healthcare Center offer private treatment rooms so you can create the perfect atmosphere for your body and mind.
10) All-in-One
Huong Sen Healthcare Center offers a geothermal shower, mineral bath, all within the same room because once you are relaxed, you are not going to want to travel far. Get the ultimate all-in-one experience and add a massage to your mud bath and then you can add an 11th benefit to the mud bath.
11) Go deeper into your massage
The mud and mineral baths will prep your muscles to let go so your massage therapist can go deeper, releasing even more tensions and stresses, allowing you to leave the spa with a totally rejuvenated mind and body!
---
HƯƠNG SEN HEALTHCARE CENTER - HOTLINE: 0165 318 3888
Branches in Hanoi
Hương Sen Viện Châm Cứu – Phone: 043 8533 798
Hương Sen 78 Đường đôi Yên Phụ - Phone: 043 9271 330
Hương Sen 68 An Dương – Phone: 043 7171 999
Hương Sen 110 Thái Thịnh – Phone: 043 5381 199
Hương Sen 5 Lê Văn Thiêm - Phone: 043 8533 999
Working hours:
9h30 - 22h30 every day of the week.